Today's featured senior session comes to you from Emma Rose Company, located in South Bend, Washington!
Describe this session for us:
"Bella is absolutely beautiful inside and out. She is smart, talented, and has big dreams! This session could not have been more perfect as the sun was setting and wildfire skies made for the most magical light. The location of this shoot was in the foothills of the Wenatchee Valley in Eastern Washington. Tucked into a valley with gorgeous landscapes and endless sagebrush, adventuring around with Bella could not have been more fun!"
What inspired this session?
"The time of year in Eastern Washington creates the most magical evening sunlight. Also, the colors this time of year are just stunning and I wanted to capture it with this session."
What gear did you use?
Canon 5D Mark iii
Sigma Art 35mm 1.4
Natural Light
Hair & MUA?
Done by model.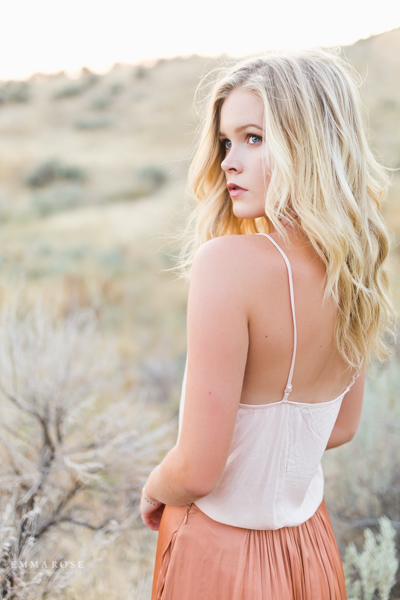 I love the location, the model, her vibe…all of it! Thanks so much for sharing this session with us!
You can find more of Emma's work on Facebook and Instagram.
Thanks for reading SSG!
Megan