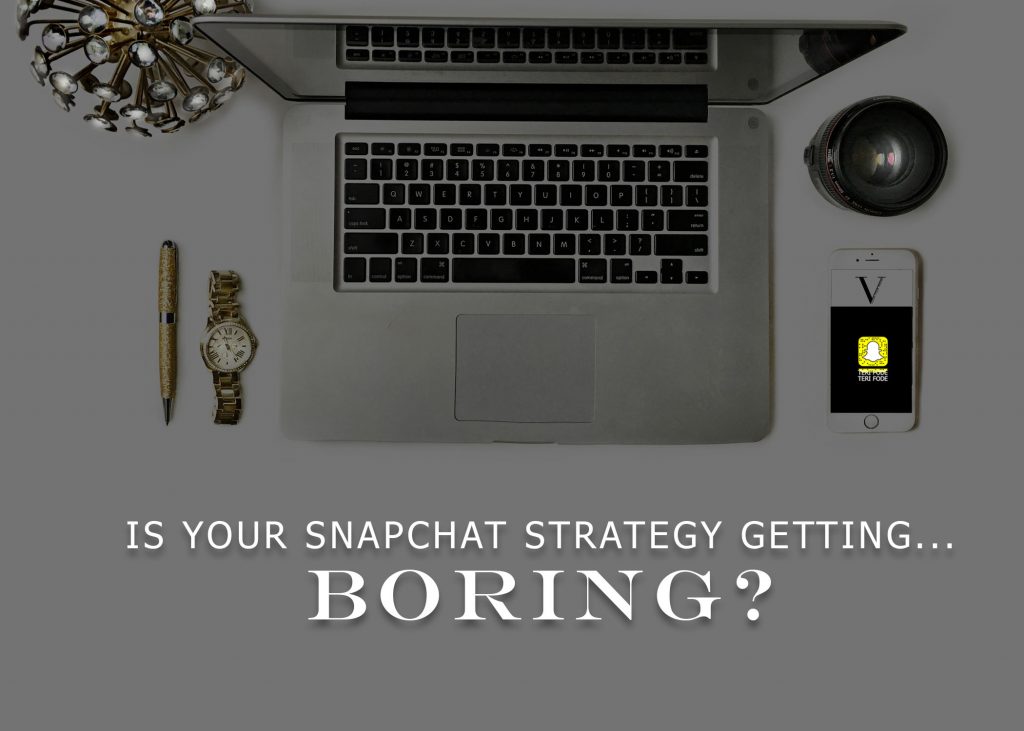 MARKETING TIPS INSIDER | BY TERI FODE
So now that you've been on Snapchat for awhile and you really have the hang of it…are you starting to look boring? Are you just… blending in? Is your Snapchat story just one behind-the-scenes after another?
Do you feel like you need a shot in the arm with your Snapchat Strategy?
When I first started using and teaching Snapchat to photographers 3 years ago, it was very easy to "look unique" because very few photographers really even "got it". There was a huge resistance to the platform and I remember most photographers pushing back against it!
Fast forward to 2017 and now it seems that everyone is on it. That means it's time to step up your game and really tell your authentic brand-story on this amazing business-building platform!
Snapchat just went public (today!) and it's going to get stronger. This platform is my NUMBER ONE REFERRING platform for teens! Even bigger than my website.
Here are some ideas on KEEPING IT FRESH:
1/ USE THE STRATEGY OF DRIP MARKETING: I teach this a lot and it is absolutely applicable with this platform too. In fact, this is the perfect platform to excite your clients about "what's to come"!
Have a session this afternoon? Share the images of your senior's outfits (we have our girls text us the outfits before the session…then I show those via my iPad on Snapchat!).
Picking up some new props or items for your style closet? Snap that you are shopping for "something up your sleeve".
About to reveal a new product? Tease them and draw it out for a few hours with just tiny parts of the product showing.
Planning a themed shoot? Shot the before and after of the set-up, prop-shopping, style ideas prior to and then after the shoot.
2/ CONNECT THE DOTS WITH CROSS-PLATFORM: This is a great strategy for direct your audience to a platform you want to build. But don't forget…the most important "direction" you can give is to a "call to action".
Did you just finish an amazing "behind the scenes" on Snap? Take them on the entire journey within 24 hours…from shoot, to edit, to post. Show it all right away for that flow-connection
Direct your IG audience over to Snapchat for EXCLUSIVE content that you only share on Snapchat.
Direct your Snapchat audience over to IG for EXCLUSIVE content that you only share on Instagram
Direct your audience to your BLOG for a call-to-action
3/ INVOLVE, ENGAGE, CONNECT: Don't miss the most important connection of all—your face, your voice, your personality. Throw on a filter if you feel better (lol) but get your face out there. And also…
We've been doing "this and that" for awhile…it can get stale if you keep doing it over and over so be sure to mix it up with new questions and more dialogue (example: "Coffee or Tea..") Involve mom or your makeup artist! As for more info on WHY they like coffee more than tea
MUA Interview: we have 5 minute makeup tips from our makeup artist exclusively on Snapchat (and sometimes IG Stories). Everyone loves these
Interview your senior (where are you going to college? Do you have a boyfriend? What's your dream road trip?) And make it FUN. Laugh, giggle, capture the raw moments from these questions.
Share the back of the camera with the senior…and your mom, makeup artist, assistant, everyone.
Ask mom or your makeup artist to capture YOU behind the scenes. This is important. You can tell whomever is capturing you to get a good angle. When my son is doing our story for the day, I simply tell him: "don't get mama's big behind Mr."
4/ CURATE THE PRETTY STUFF: While Snapchat is all about "real life", don't miss the opportunity to show curated, intentional content posts to show-off your amazing brand
Intentionally capture the "behind-the-scenes" of your Flatlay creations
Unveil your products and show images of them displayed in gorgeous light as if for an Instagram shot
Capture gorgeous shots of your magazines, packaging, studio
5/ GET PERSONAL: Let Snapchat trail your life for the day
I'm known for my "shoes and lipstick" so whenver I'm out shopping for cute shoes or makeup, I snap it. Why? Because girls love shoes and maekup!
Let them inside your creative brain. Show what you have cooking up in that head of yours! Share how you are driven (show images from magazines, or you browsing Pinterest, or out being inspired at the mall)
Don't be afraid to let them inside your home. Yes, I keep this to a minimum but my teens say they LOVE my snapchats and love seeing my personal life. So experiment and pull back that curtain!