Today's featured senior session comes to you from Nikki Guest Photography, located in Katy, TX!
Describe this session for us:
"Kaitlyn has scored leading roles in various plays at her high school. I knew going into the session we would achieve several different looks and showcase her love for acting and fashion. Kaitlyn can switch gears like any good actress so we had a ton of fun! The best way I could describe the session is to say it was simply perfect. Kaitlyn is one of my senior spokesmodels. She is comfortable in front of the camera and it made my job so easy. Additionally, I believe her confidence in me and my direction made the shoot go so smoothly. We laughed a lot because she is so tall and just radiates beauty. We had many folks stopping to watch. We made a great team! My hair and makeup artist joined us on the session, this allowed for us to transition easily into a variety of looks and also helped us deal with any fly aways or shine with makeup."
What inspired this session?
"Kaitlyn has an eclectic style. She loves a variety of looks and building off of someone that is open to suggestions makes it super fun. It is so important to demonstrate the senior's personality in their photos. In order to achieve this, I try my best to remember styling/clothing choices and background work as an added accessory or "footnote" so to speak to to complement the senior's personality. Kaitlyn wished to display her love for acting, flair for fashion as she pursues fashion journalism, and at the same time showcase this sweet time in her life as a young lady. We were able to do that with 3 very different looks. Kaitlyn's love for fashion was easily showcased with her gold dress! She just sparkled and her blue eyes twinkling were an added bonus. Her black dress was to honor her love for "old hollywood" and acting. We looked at old photos of Lauren Bacall, Grace Kelly, and Rita Hayworth. Those actresses are so inspiring and it really went well with the look we were going after for that portion of her session. Finally, we knew that we needed to demonstrate her youth and the fresh outlook of being a senior with the world as her oyster so to speak, this is where her next outfit came into play. Kaitlyn decided to use a dress she wore for Halloween (dressed as Jenny from Forrest Gump). The simple white dress is long, but so incredibly elegant and just exudes a since of gracefulness. Kaitlyn was stunning in all 3."
What gear did you use?
Nikon D810, Nikon 70-200 mm, Nikon 50mm
Hair & MUA?
Ashley Carlton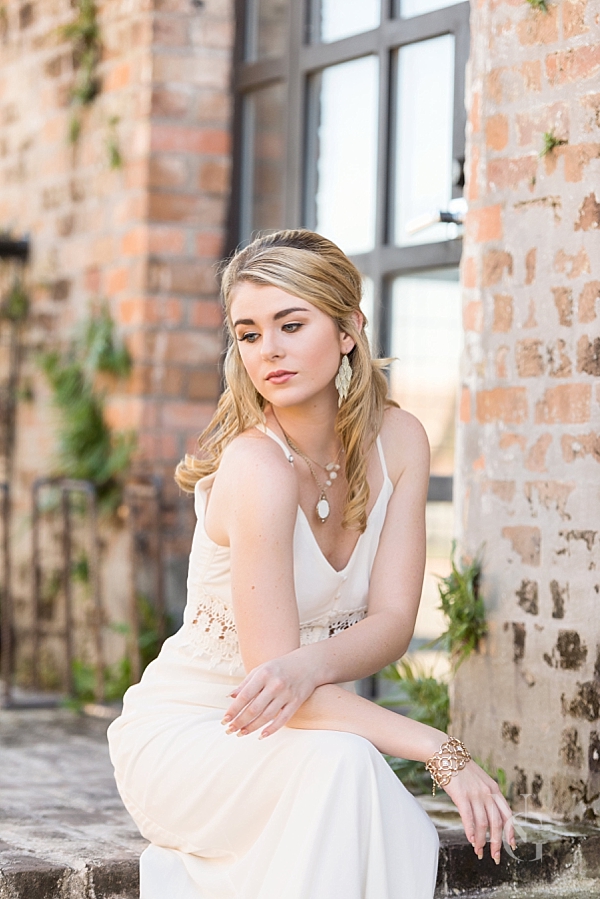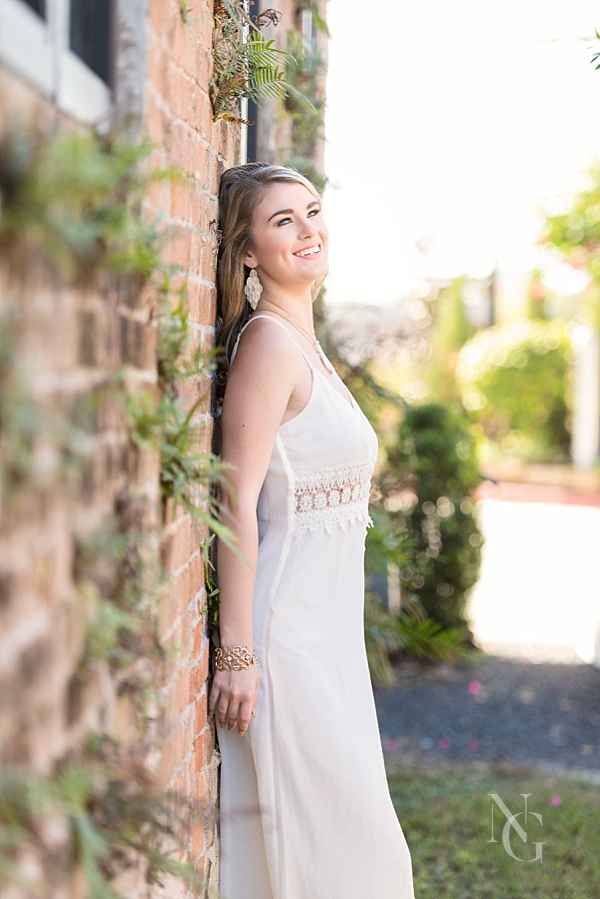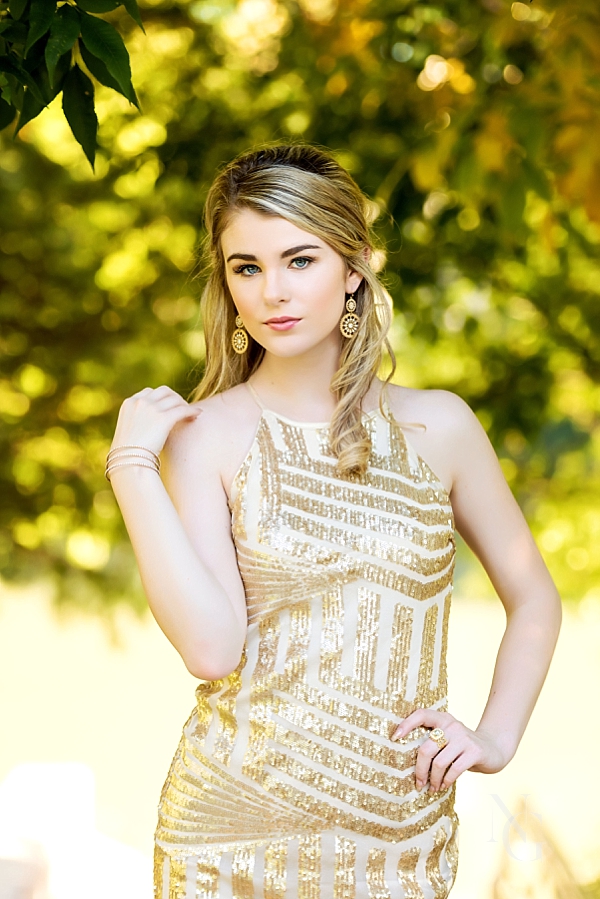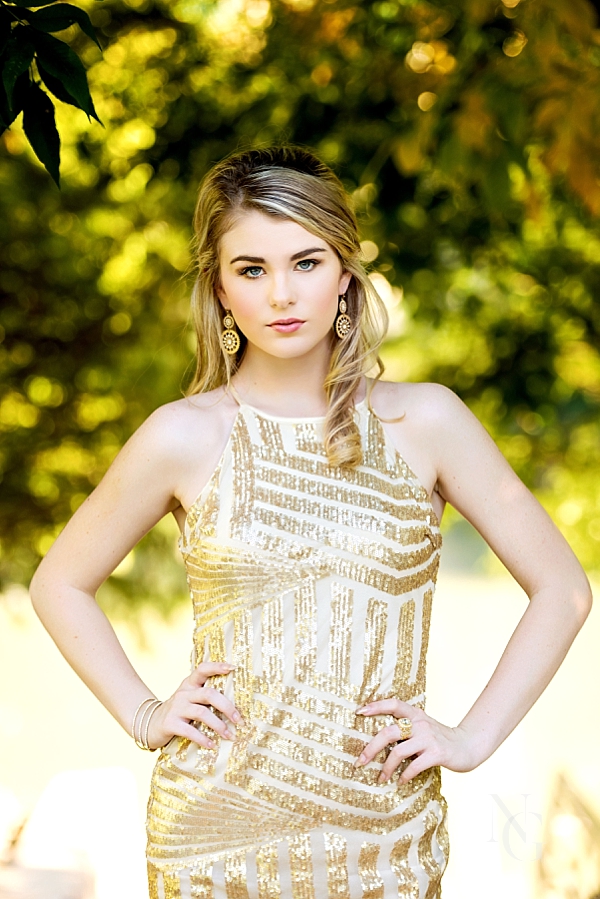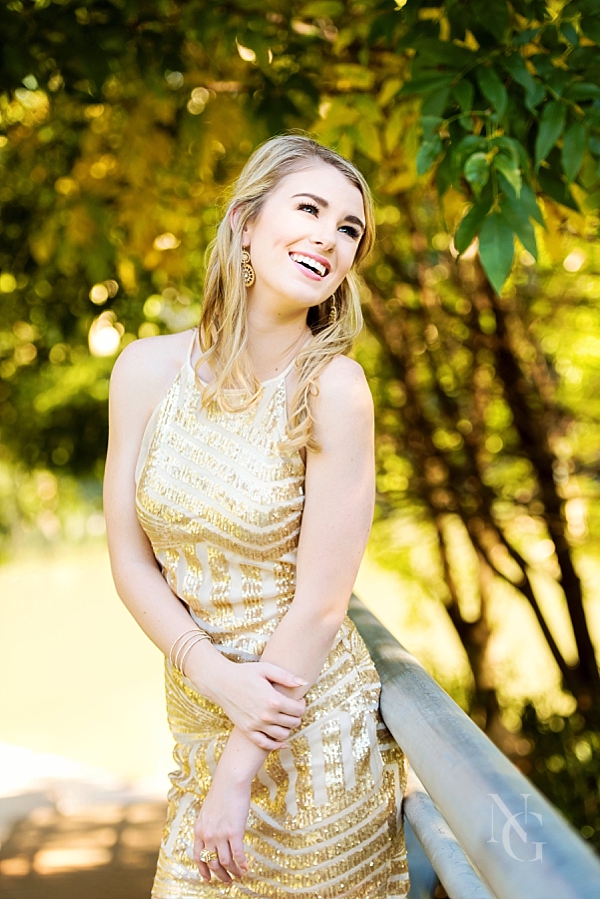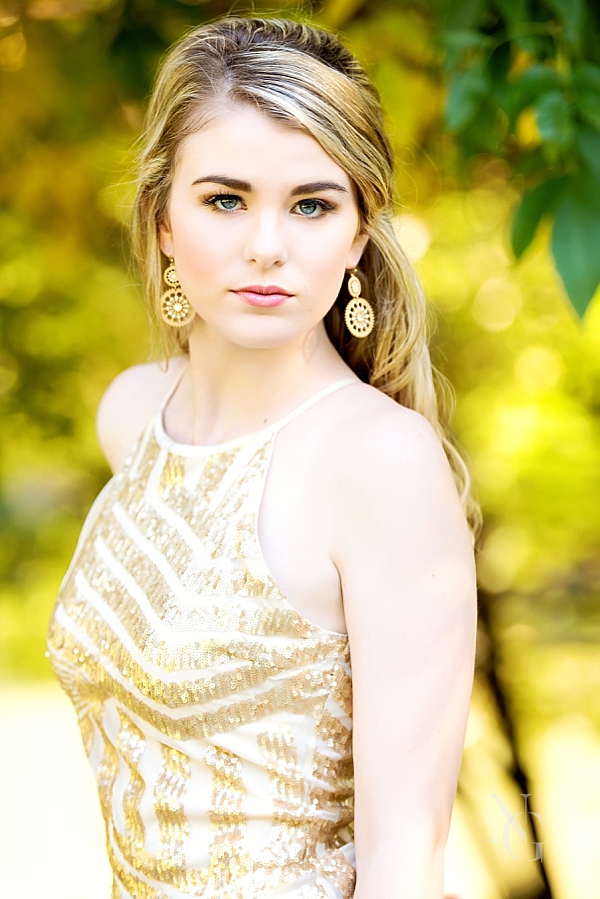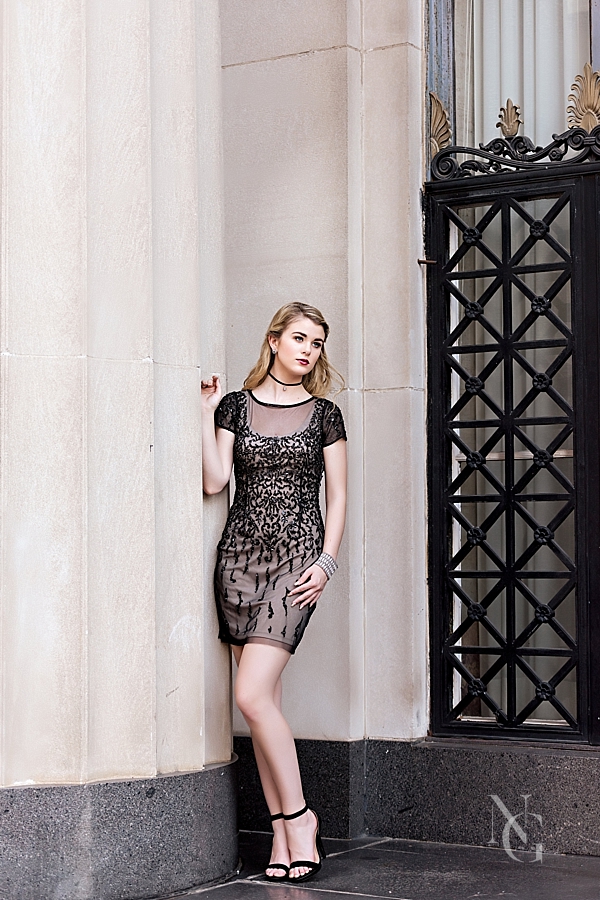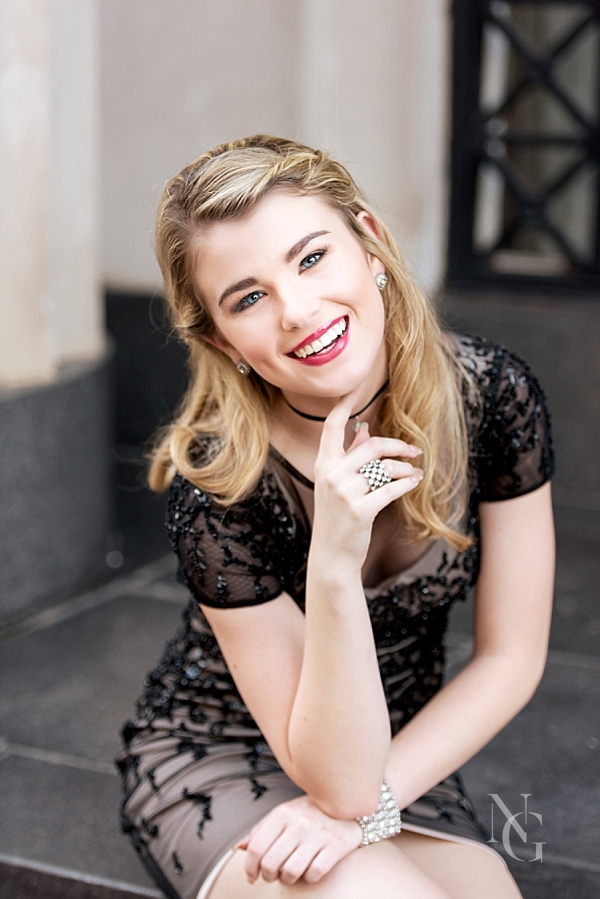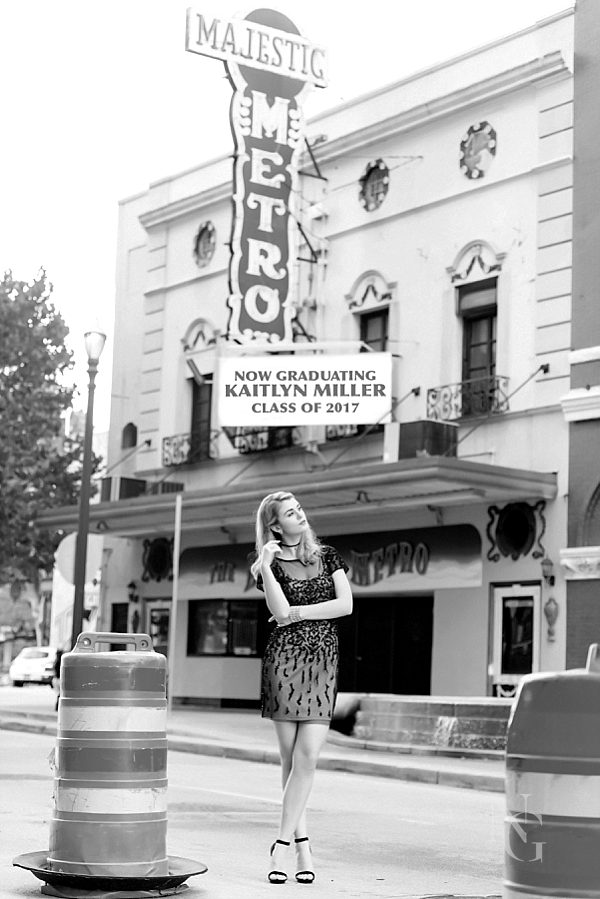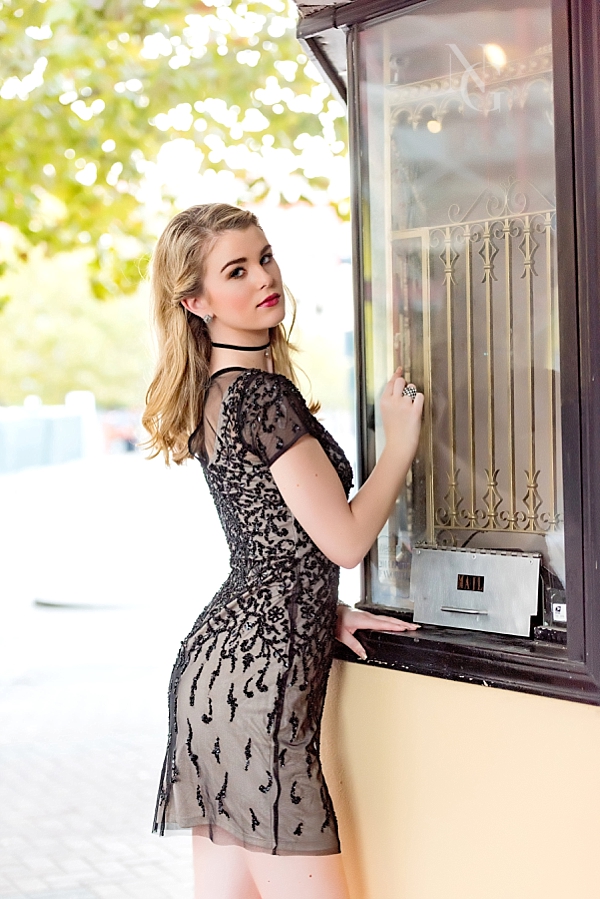 What a lovely girl! Love all of her looks and her big, beautiful smile!! Thanks so much for sharing this session with us:)
You can find more of Nikki's work on Facebook and Instagram!
Thanks for reading SSG!
Megan